Every culture loves a grand new year celebration. It is a time where we can leave behind the past year and feel refreshed and excited about the future.
When it comes to the new year, no country has a bigger celebration than China does.
For many Chinese people this will be the only holiday that they will take in the year. They will travel from all over the country to get back to their families for the festival which will prompt the largest annual migration of people in the world.
This will reduce manufacturing and freight before and after the event with so many people leaving to join the festival.
Here is everything you need to know on how it will affect Chinese imports and exports.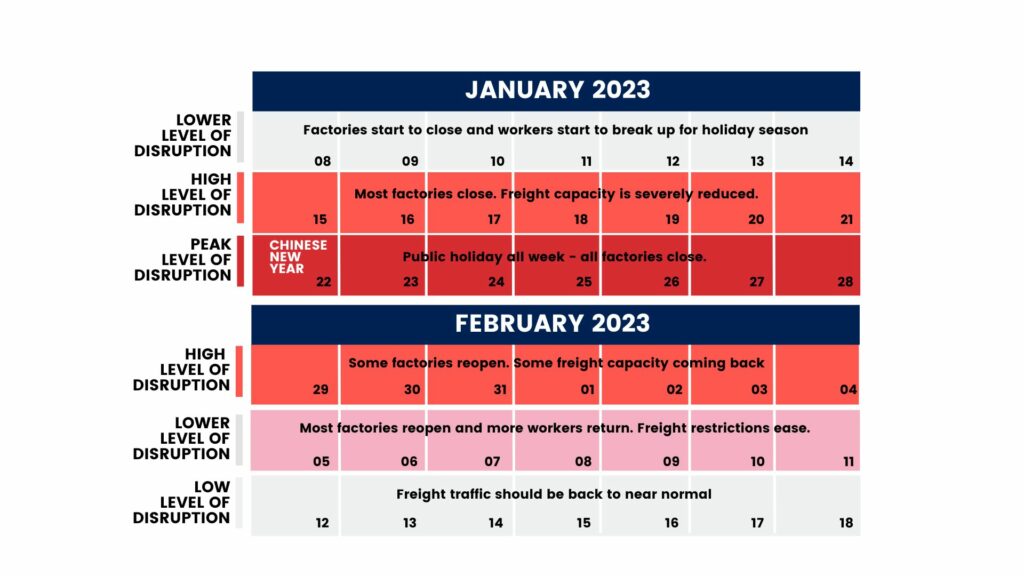 The Chinese Spring Festival Holiday will start from 22nd January and will last until 29th January.
If your company trades goods with China, the shipping and air freight capacity will be drastically reduced during the festival along with disruption before and after.
In addition, there are increased issues due to Covid 19 as China has relaxed their controls recently.
MANUFACTURING
Most local factories will shut down in the middle of January as their workers start preparing for the celebration. In this time there could be close to 90% factory closures.
They will usually reopen by the 5th of February.
SEA FREIGHT
If you need to have cargo shipped from China, then it will need to be loaded in the first half of January. Capacity will be tight so please book as early as possible and be prepared for potential delays.
Shipping will be able to resume from the 5th of February and be close to normal capacity by the 10th.
Even with these constraints we are not expecting rates to rise significantly for Sea Freight during this period."  – Jill, Sea Freight Manager
AIR FREIGHT
From the 10th of January onwards there will be reductions in capacity and a raise in rates.
There will be major restrictions between the 16th to the 30th of January. It may be possible to obtain Air Freight at this time, but you can expect delays and high costs.
During this time costs will go up although we are not expecting it to be too sharp. Prices will vary from day to day.
Please expect transit times to be between 10 and 14 days to total due to personnel shortages. We expect capacity to be back to normal by the 5th of February.
WHAT'S HAPPENING WITH COVID IN CHINA?
As China has loosened COVID-19 restrictions there has been a spike in cases which will lead to a significant section of the population either isolating or requiring treatment.
This has led to restrictions in manufacturing and freight due to lack of personnel.
However, things are starting to get better and there is a hope that supply will be close to normal soon after the festival.
IS IT CALLED CHINESE NEW YEAR, LUNAR NEW YEAR, OR THE SPRING FESTIVAL?
The actual name for the holiday is Chinese Lunar New Year as the traditional Chinese lunar calendar is mainly based on the changes to the Moon.
However, in the Mandarin language the holiday is called Chūn Jié, which means "Spring Festival". This term was used after the Chinese adopted the Gregorian Calendar in the 1910's.
HOW CAN WE HELP YOU?
Planning: We will work with our customers to understand what options are available in the coming weeks. This will help with your supply chain planning and managing the expectations of your wider business.
Flexible Network: Our extensive & robust network of suppliers means that we can tailor your logistics solution to the rapidly changing circumstances.
Problem Solving: Experienced account managers have an excellent track record of finding solutions to move your goods by exploring multiple options to fit your needs.